March 20, 2020
New date for Record Store Day
The date of Record Store Day has been changed to Saturday, June 20.
Look forward to our exclusive vinyl release of Ron Carter´s "Stockholm" album!
March 13, 2020

Danny Ray Thompson     † March 12     R.I.P.
It is with space sadness that we share with you the news that Danny Ray Thompson, long time Sun Ra Arkestra member, left the planet on Thursday night March 12, 2020.  He was on 72 Arkestra recordings and performed on baritone sax, alto sax, flute, Neptunian libflecto (bassoon with French horn or saxophone mouthpiece), percussion, and vocals within the band.
He performed 45 years in the Sun Ra Arkestra, first joining it in 1967.  He also served as Band Manager during his Arkestra tenure.
Danny Ray Thompson is now traveling the spaceways, joining the many beloved Arkestra members who have previously left the planet and who now soar with the spirit of Sun Ra.
March 11, 2020
Audiophile Edition "Stockholm"

EXCLUSIVE RELEASE FOR RECORD STORE DAY!

Double Gatefold LP
With original artist´s signature
Including bonus tracks not available on CD
Strictly limited to 1999 copies worldwide!
June 4, 2018

Ron Carter Echo Jazz Award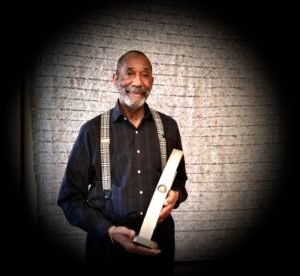 Ron Carter with Echo Price for Lifetime Achievement
Apr 21, 2018

Ron Carter Echo Jazz Award Nominee

We're proud to announce, that Mr. Ron Carter has received a nomination for Echo Jazz Award for his latest Trio Album.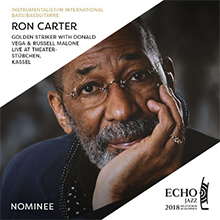 Apr 9, 2018

Nathan Davis     † April 8     R.I.P.

We are sad to announce the death of Mr. Nathan Davis. Born on Feb 15 1937 in Kansas City, he passed away at the age of 81 in Palm Beach, Florida. Nathan Davis has been a dear friend to us since the very beginning of IN+OUT Records.
He was the Heart & Soul of the Band "Roots". His first recording with us was in 1991 (Roots "Salutes The Saxophone"). After Don Pullen (1995) and Arthur Blythe (2017) he is the third founding member of the group who left our planet.
Our feelings are with his wife and family. 
Rest in Peace and keep swinging up there, Nathan!