Apr 21, 2018
We're proud to announce, that Mr Ron Carter has received a nomination for Echo Jazz award for his latest Trio Album.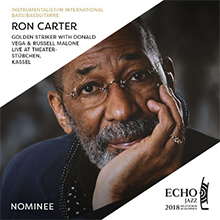 Apr 20, 2018
We are sad to announce the death of Mr. Nathan Davis. Born  on Feb 15 1937 in Kansas City, he passed away at the Age of 81 in Palm Beach, Florida. Nathan Davis has been a dear friend to us  since the very beginning of IN+OUT Records
He was the Heart & Soul of the Band "Roots" He first recording with us was in 1991 (Roots "Salutes The Saxophone) After Don Pullen (1995) and Arthur Blythe l(2017) he is the third founding Member of the Group who left our planet.
Our feelings are with his wife & family. 
Rest in Peace and keep swinging up there, Nathan!